Posted on
Aloe vera is a succulent plant that has been used for medicinal purposes for centuries. Its gel-filled leaves contain numerous beneficial compounds, making it a popular ingredient in skincare products and health supplements. Here at Madluvv, we've always stood by the fact that INGREDIENTS MATTER, which is why including aloe in in our Set Me™ Setting Spray was at the top of mind during the formulation process. We've never discovered a setting spray that is actually good for skin, so we created it ourselves. But what is so special about aloe and why does it seem like everyone in the skincare space is talking about it? Here are just a few of the *many* benefits:
Moisturizes Skin
Aloe vera gel is an excellent moisturizer for the skin. It contains natural compounds that help hydrate and nourish the skin. Regular use of aloe can help keep your skin soft, supple, and glowing, which is why we suggest spraying Set Me™ throughout the day (throw the mini in your bag and you're good to go) for a nice, moisturizing refresh. Trust us - it's like a facial on-the-go. Soothes Sunburns One of the most well-known benefits of aloe vera is its ability to soothe sunburns. It contains compounds that have anti-inflammatory properties, which can help reduce redness, swelling, and pain caused by sunburn.
Reduces Inflammation
Aloe has been shown to have anti-inflammatory properties. This makes it a useful remedy for a range of inflammatory conditions such as arthritis, eczema, and psoriasis. Applying Set Me™ both before and after makeup application can reduce inflammation and help avoid irritation. (Pro tip: apply this the morning after a girls night to reduce that red-wine face puffiness).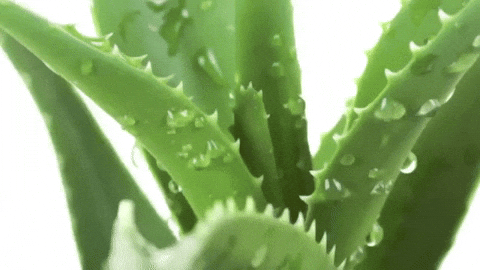 Heals Wounds
Aloe vera has been used to heal wounds and injuries for centuries. The gel contains compounds that have antibacterial and antifungal properties, which can help prevent infections and promote healing. Applying aloe can help speed up the healing process.
Aloe vera is a versatile plant that offers numerous health benefits. From soothing sunburns to reducing inflammation, aloe vera has something to offer everyone. Incorporating products that include aloe into your daily routine can help improve your overall health and wellbeing, so add a spritz of Set Me™ Setting Spray to your morning routine and enjoy the many benefits of aloe!